Lake George, NY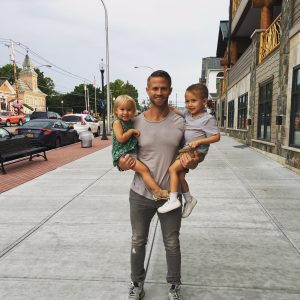 There are lots of sayings about assuming you know something is a bad idea….well this past weekend Erik and I were totally wrong on our prior assumptions about Lake George. Located in the Adirondacks, the lake is absolutely huge and pristine and also a large tourist destination.
We have been busy with our chiropractic office and traveling for work so we decided last Wednesday to do a last minute weekend getaway with the kids. I mentioned Lake George (its just over 2 hours from our house) and we decided to check it out. Erik grew up in the Hudson Valley and had never been I am from Long Island and have never been. We both assumed it was a touristy location that could be a little cheesy and trashy….we were wrong.
Everything about the trip was better then we could have expected. I booked last minute and was able to get a basic "motel" style room at Scotty's Lakeside Resort which is just outside of the village. The motel was fine, it as clean and family friendly…basically the closest to camping your get me to do. With that said there are a ride array of different types of lodging in the area, from camp sites, to airbnb's, motels and on the luxury side the Sagamore. I did check availability there and while they had a good amount of rooms available the starting rates with tax were over $600 a night. I could not justify that as this was just a short weekend trip. We ended up paying $400 a night for our motel, our room had 2 bedrooms and a bathroom which was great with the littles. There are definitely more affordable properties in the area but this was a trip I planned 2 days in advance.
We arrived late Friday afternoon and after checking in let the kids play on the shore and on the playground at the motel. Do not expect 4 star amenities but everything was clean and well kept. Our next stop was onto Lake George Village for dinner and to purchase water shoes for Lincoln which I totally left at home. Being a Friday night at prime dining time everywhere at a slight wait. We choose MOOSE? since it had 4 stars on yelp and seemed super kid friendly. It was AWFUL I hate to give a bad review but this was just gross. Please avoid it. While waiting they had a free concert in the park and Lincoln was able to play on some bounce houses and burn some energy.
Saturday we were able to find a last minute cancelation for a boat charter. With that set for early afternoon we played with the kids in the morning and had breakfast at Caffe Vero, which was a much better meal then night before!
We used ????? and Ted was awesome!!! This was our first time taking Emmy out on a boat and she LOVED it both kids were great even considering we were rained on for half the trip. The Lake is absolutely breathtaking. My favorite was being able to go tubing with both the little ones and just take in the scenery. This is a total splurge at just over $400 for 3 hours but so worth it!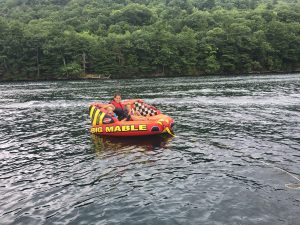 We had the hotel for Saturday night but due to the kind of awful weather we decided to drive home in the evening and get a pitstop in at Whole Foods togetsome shopping done. We had a great little family vacation and are already looking forward to our next weekend up there. There was just so much to do between the Lake, little throwback arcades, amusement parks for little and big kids, and TONS of outdoor activities in the area. It is definitely a destination that can grow with our family.