Surprise Birthday
For the second time in two years our closest friends have gotten together to do a surprise trip for a birthday milestone. This one happened to be a 40th birthday in Naples, Florida.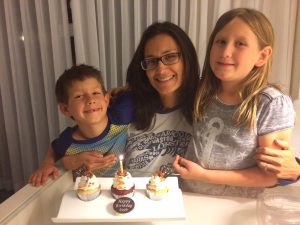 Our decision to do these birthday trips came from the fact that our group of friends lives all over the country (NY, GA, MI, and CO) we are fortunate enough that because of our involvement in chiropractic (one spouse is a chiropractor or in some cases both are) we usually see each other at least every other month and we all happen to have little ones under nine years old.
So the next birthday trip brought us to Florida for Memorial Day weekend. We had decided this would be a family trip, between 4 families we had 8 adults and 9 kids. I booked everyone at the Naples Grande Beach Resort. I picked the hotel based on reviews and cost, this was a trip with lots of little ones so the thought of staying at a $600+ a night resort was scratched pretty early on. The rooms ended up being just over $200 a night for an ocean view and maxed out at about $300 a night for a garden villa (junior suite for the family of 6).  Flying into Naples is a little daunting as the closest major airport is in Ft. Meyers (RSW) it is just under a 40-minute ride to the hotel from airport.
Now onto the hotel, it is advertised as a 4-star property that is family friendly. They have a dedicated family pool with water slide and also a quiet adult pool. The hotel's name is misleading; it is not actually ocean front; getting to the beach requires either a walk or trolley ride through a beautiful estuary. Once you arrive at the beach it is full service with facilities, food/drink, beach chairs etc. The fact that the beach is a bit further away then your typical "beach resort" is in my opinion a negative when traveling with little ones. It also happens to be a public beach.  My kids are still at the age where they require a lot of stuff and cannot yet really help lug it around. I know the distance was less of a logistically issue for the family with the 6 and 9-year-old as they are pretty helpful at that age. If you are looking for a beach resort I would say this is probably an excellent pick for most families as long as you know what to expect with the beach. The hotel does offer a kid's club for children ages 5-12, none of us utilized it so I am not sure hot entertaining it was. I know they did offer kids pizza making classes, jewelry making, and candy decorating for a fee. A neat feature offered by the hotel was allowing kids under 5 to eat free in the restaurants (kid's menu/buffet) while dining with their parents. This is always a nice perk for families and always makes the resort more family friendly!
Rooms: We stayed in a gulf view room with two queen beds. The room itself was clean and felt beachy with neutral colors and blues throughout. The room has a nice sized balcony that the kids enjoyed playing on. They list the rooms as gulf view but since you are actually quite far from the beach the view is not that spectacular in these standard rooms. Are friends who upgraded to a large suite had a bit better view.
Pool area: I loved the family pool! It is a large zero entry pool that was excellent for the kids! They played for hours and it was such a slow entry into the water that even the really little ones had a blast. The bigger kids went down the water slide a ton and seemed to enjoy the pool as well. The main family pool would not be a place to "relax" it was busy and crowded pretty much the entire weekend. I did peak over into the adult pool and found it to be much more peaceful, if that is what you are looking for.
Beach: The beach is not private to the resort. As a hotel guest you have towel service and two chairs per room available to you. There is also a full service restaurant down there owned be the resort but open to public. The beach itself was beautiful, calm, and clean. The only downside is physically getting to the beach. You either have to do the 15-minute walk or take a golf cart down. The golf cart service is open to public and resort guests which can make for a crazy long wait. One set of our friends waited 30 minutes for a ride back (kids were too tired to walk). This is something to keep in mind when heading down to the beach. I wished the hotel would have had separate shuttle service for hotel guests, I think that would ease some frustration.
Spa: All the ladies did a spa day to celebrate the birthday girl. We found the facilities to be nice and clean, all of us enjoyed our services. Prices were expensive but we are all use to that while on vacation so it was what we expected.
Restaurants on property: Besides the normal food poolside the only restaurant we tried was their breakfast buffet. None of us were overly impressed the food was ok and a bit limited.
Outside of the hotel: We ate all of our dinners off property and every single one was excellent. Naples is a great destination and completely family friendly while at the same time a place where you could travel as a couple and easily avoid family travel if that was what you were looking for. I know my family looks forward to heading back there in the future.
We had a great vacation and compared to the price point for other similar resorts in the area this is a great property!